Mountain lore overflows with stories of courage, and there's no doubt conquering mountains brings us the thrill and glory of victory. But our heroic qualities are never more admirable than when shown in the service of others – and some of our most important successes lie in the way we fail.
That's why one of the greatest mountaineering stories ever told is that of a daring and ill-fated American mission to conquer Pakistan's K2 in 1953. It's a story known among climbers as 'The Magic Belay'. At 8,611m, K2 – also known as Chhogori – is the world's second highest mountain after Everest. But what it loses to its more famous sister in height, it more than makes up for in difficulty. In the eyes of many climbers, it's tougher than Everest. Attempting it takes skill and experience, heaps of preparation, and unbelievable grit.
Even with all that, many who try don't make it to the top. In fact, K2 has a reputation for being merciless. "It's a savage mountain that tries to kill you," one climber famously told journalists, on returning from a failed attempt. A lot of the time, it succeeds. But we're getting ahead of ourselves. In August 1953, an eight-person American expedition set out from K2 base camp. It was led by the famous mountain man Charles Houston. Pete Schoening – the hero of our story – was the youngest member of the crew, at 26 years old.
At first, it seemed to be going well. For seven days, the party worked its way higher and higher, trudging through snow and clambering up icy walls. The climbing was tough, for sure, but not impossible. It seemed as if the mountain just might favour them.
But then, somewhere around 7,600m elevation, disaster struck. Art Gilkey, one of the team members, collapsed. The team quickly realised that he was suffering from a pulmonary embolism. This life-threatening condition is one of the major risks of climbing big mountains. It's when a chunk of blood gets stuck in your lungs. When you're hit with it, it feels like you can't get enough air. All the energy drains from your body. Climbing K2 with a pulmonary embolism? Out of the question.
Even though their goal was almost in sight – they were less than 1,000m from the summit – the climbers decided immediately to abandon their adventure. Instead of claiming the historic first ascent, they would make the dangerous descent in a hurry, hoping to save Gilkey's life. Quick as they could, they wrapped the collapsed climber in his sleeping bag and began lowering him, inch by inch, down the mountain.
While descending a steep slope that ended in a huge cliff, one of the climbers suddenly slipped. He went skidding down the hill at top speed, straight toward the drop-off. Since he was connected to the rest of the team by rope, they were all yanked after him.
Schoening alone, at the back of the group, could save them. He had to think fast. Risking his own life, Schoening jammed his ice axe into the mountain face and looped the rope connected to the rest of his team around it. He gritted his teeth, dug his crampons into the ground, and leaned against the axe with all his might. The rope went taut, stretching and stretching until it was as thin as a pencil, pulling Schoening himself downward…
But the climbers stopped falling! Miraculously, neither the ice axe nor the rope broke, and Schoening himself refused to give in.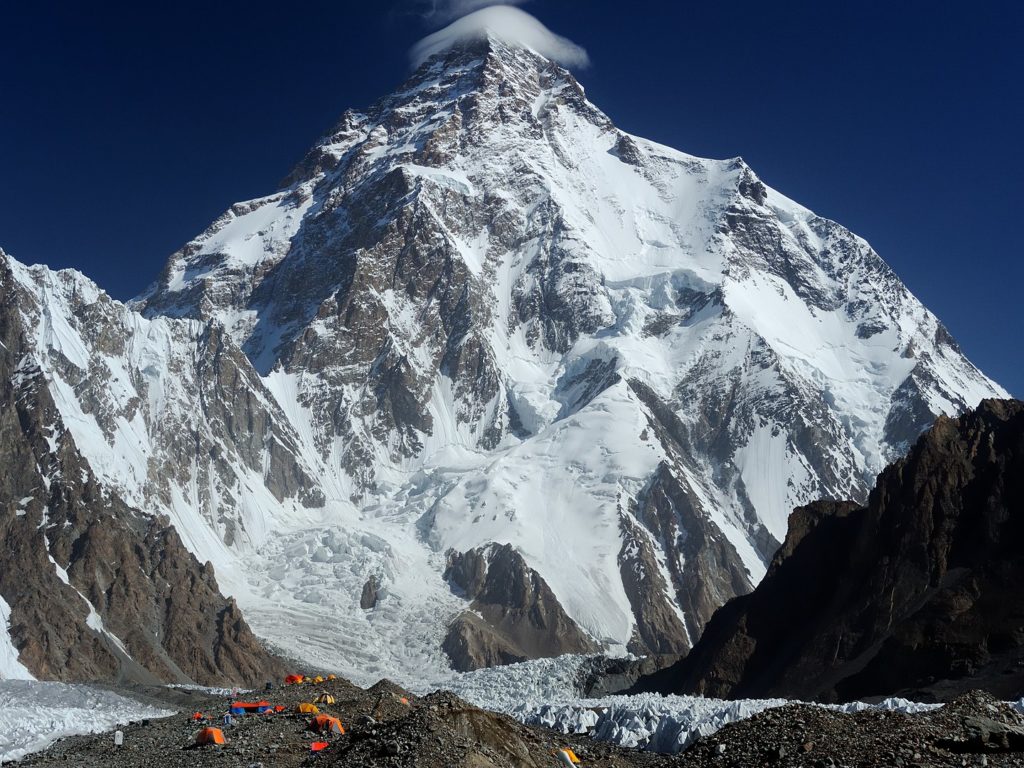 Gradually, with Schoening belaying, the team members all pulled themselves to safety. The team went on to complete its descent. Tragically, Gilkey himself did not survive. But when they returned to base camp, Schoening's quick thinking and willingness to risk his own life to save his friends were rightly celebrated.
In 1981, Schoening – who was famously humble about his heroic acts – was given an award by the American Alpine Club. He was described as: "A mountaineer who has distinguished himself, with unselfish devotion at personal risk or sacrifice of a major objective, in going to the assistance of fellow climbers imperilled in the mountains."
His kit received some serious respect, too. Today, Schoening's ice axe is kept on display at the Bradford Washburn American Mountaineering Museum in Golden, Colorado.
K2 was finally climbed in 1954 by the Italian climbers Achille Compagnoni and Lino Lacedelli, just a year after Houston's team turned back. But Schoening made history of a different sort, turning what might have been a tale of failure into a lasting and inspiring story of success. It's important to set goals in life. It's vital to pursue them with courage and determination. But it's also essential to care for those around us and to keep our eyes on what really matters in the present moment. Our goals should never stop us from doing what we know is right.
With that in mind, KIT salutes the memory of this intrepid and courageous mountaineer.