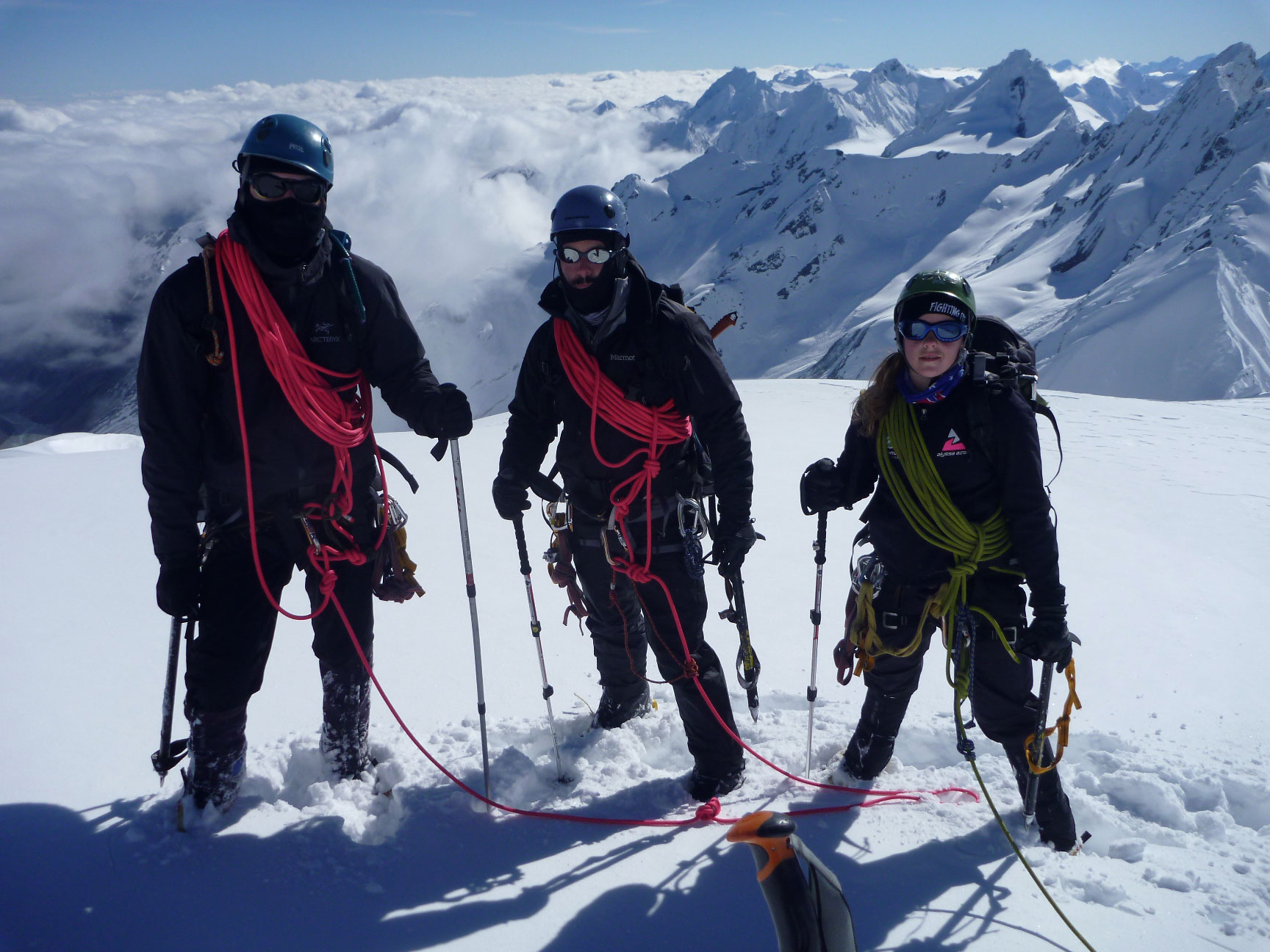 Mt Everest. On this frozen peak at the roof of the world, you stand above more than seven billion people. At only 19 years old, one incredible mountaineer became the youngest Australian to reach this renowned summit – and she did it twice. Alyssa Azar tells KIT about the ambition, self-discipline and resilience that took her to the very top.
HOW DID YOU DECIDE TO CLIMB EVEREST THE FIRST TIME? DID THE IDEA COME TO YOU SUDDENLY, OR WAS IT A LIFELONG DREAM?
It was a bit of both. I had initially read about Everest at school when I was six or seven, and became fascinated by the world's highest mountain. I was into bushwalking and hiking on the weekends, and I remember walking into the Mountain Designs store and seeing all the elite, iconic Australian mountaineers and their feats on the walls. I wanted to be one of them someday. By the time I was 14, I had a deep love of mountains and a passion for pushing myself in these amazing places. It was on my climb of Kilimanjaro, alongside a team of other Australian trekkers, that the idea of Everest came up, and I decided to pursue it.
HOW DID YOU KNOW YOU WERE READY?
It's certainly hard to tell when you feel ready for such a huge challenge. No matter how prepared you are there will always be fear and self-doubt. That's part of the process of climbing a mountain – you learn to overcome these things. I knew I was ready because I had left no stone unturned in my preparation. I was physically fit but also mentally strong, and had already overcome numerous obstacles. I trusted myself to handle the conditions on Everest and believe in myself despite any minor doubts.
WHAT WERE YOU THINKING AS YOU FIRST REACHED THE SUMMIT?
It's a moment that's etched in my brain forever. I remember not wanting to get ahead of myself on summit day, but my adrenaline was pumping. The weather changes quickly and it's brutal at those altitudes. There was still a chance we would be forced to turn back. When we reached a point called the South Summit, an hour away from the true summit of Everest, I stood there looking at the final ridgeline we had to climb. I was ecstatic but calm. I knew I was going to make it. When taking the final few steps, my mind was clear. On the summit of Everest it feels like time stands still. I felt so grateful to make it there, so I just stood and soaked in the magnitude of where I was and what I had just done. I thought to myself: "I did it".
WHAT DID YOU DO TO PREPARE YOURSELF?
Training for a big climb requires a lot of discipline. Above all, being a mountaineer involves great endurance. On the mountain, my body needs to be able to carry a really heavy pack, while ascending incredibly steep terrain. So the most important part of my training is pack walking, where I slowly aim to add more weight to my pack and move faster up more difficult trails. I also train inside a gym during the week. To recover from my training I eat healthy meals throughout the day, drink plenty of water, and get around seven or eight hours' sleep. But climbing Everest is not just about being physically fit. You need the mental strength to use that fitness under pressure. Visualisation is huge when climbing. I would sit in Base Camp and listen to music while visualising each section of the climb and how many hours between camps. I knew all the challenging sections and was ready to take them on. Visualisation allows you to adapt under pressure and be ready for the tough sections. Self-talk backs up visualisation. I would say things to myself like "you've got this" while climbing. I would remind myself of all my previous accomplishments and tell myself that I was going to succeed, I was the person who could do this.
DOES THIS STUFF ALSO HELP YOU IN EVERYDAY LIFE?
I believe the mindset I've gained while training for expeditions helps with goals in any area of life. From my process of training and climbing, I understand how to set a long-term goal for myself and how to build habits and routines that help me get there. It's also taught me how to stick with something even in tough times and to embrace the process.
DID YOU EVER EXPERIENCE ANY SETBACKS OR OBSTACLES?
I experienced many. It took three attempts before I successfully climbed Everest. But I continued to remind myself of how important this goal was to me, how much work I had put in and how far I'd come. I also viewed any setbacks as a learning opportunity. I used these lessons to come back better and stronger. I didn't allow events outside of my control to deter me from my goal.
YOU REALISED YOUR PASSION FOR MOUNTAINEERING AT A YOUNG AGE. WHAT ADVICE DO YOU HAVE FOR THOSE WHO ARE STILL TRYING TO FIND THEIR OWN SPECIAL PATH?
I would say don't feel rushed. Be open and continue trying new things. Pursuing what you are genuinely interested in and following things that mean something to you will often lead to a passion. Also, don't judge yourself for what you like doing even if it isn't popular or cool. When I was in school, I was the odd one out because I loved climbing. It wasn't popular and no one understood it, but it was a passion and I am glad I stayed true to myself and did it anyway.
HAVING ACHIEVED SUCH MASSIVE GOALS AT SUCH A YOUNG AGE, IS IT TIME TO RELAX AND CHILL OUT? OR DO YOU INTEND TO KEEP CHASING THAT NEXT BIG GOAL?
I intend to keep on striving, but ultimately, I listen to myself and where I am at. My motivation to take on big challenges must be genuine, and I know it will always be a lot of hard work and I must be committed. After my second summit of Everest, I took 18 months off and gave my body and mind some much-needed rest. I am now starting to look forward to some big challenges again after feeling refreshed. I am back in training for another big climb in the next year and I am also studying for a psychology degree at university.
WHAT IS IT ABOUT THE MOUNTAINS THAT CALLS TO YOU, MAKING YOU WANT TO GO THERE?
The freedom. I feel as if I am getting to live my life on my own terms and pursue goals that mean something to me. I have always felt more at peace within myself when climbing these big challenging mountains than anywhere else in my life. I also believe a big part of it is that in the mountains I am more fulfilled. I get more out of myself and more out of each day. I feel I've lived more life in two months on a mountain that I do in years at home.
WHAT'S THE GREATEST LESSON THE MOUNTAINS HAVE TAUGHT YOU?
Resilience. Mountains are a great metaphor for life because they represent the ups and down everyone will experience. Mountains have taught me to get the most out of any situation, they've taught me that sometimes the toughest days are the ones you learn the most from, to be grateful and find the lesson no matter what you're confronted with. I've also learned how important it is to believe in yourself – climbing a mountain starts with believing you can. If you're willing to back yourself, even in tough times, you can overcome any obstacle.
Follow Alyssa's adventures on Instagram  @alyssaazar
Interview by Erin McDonald